Comprehensive Construction
Services by Basin Roofing
Fire and Flood Restoration, Exterior Upgrades, and More
Basin Roofing is not only a trusted roofing contractor but also a comprehensive construction company offering a wide range of services to meet all your property's needs. With our expertise in fire and flood restoration, complete exterior upgrades, painting, lighting, landscaping, pool refinishing, drywall, texture, and framing, we provide a seamless and efficient solution for all your construction requirements.
Fire and Flood Restoration: When disaster strikes, you can rely on Basin Roofing to restore your property after fire or water damage. Our experienced team understands the complexities of fire and flood restoration, and we have the knowledge and equipment to handle the process efficiently. From initial assessment to complete restoration, we work diligently to bring your property back to its pre-loss condition.
Complete Exterior Upgrades: Enhancing the exterior of your property not only adds curb appeal but also increases its value. Whether you're looking for a full exterior transformation or specific upgrades, we offer comprehensive exterior improvement services. Our skilled professionals can assist with siding replacement, window and door installations, fascia and soffit repairs, gutter installations, and much more. We work closely with you to create a customized plan that suits your vision and budget.
Painting and Lighting: A fresh coat of paint can breathe new life into your property, and proper lighting can enhance its aesthetics and functionality. Our team of experienced painters can revitalize your interior and exterior spaces, providing a clean and vibrant finish. Additionally, we specialize in lighting installations to create the perfect ambiance, improve security, and highlight architectural features. Let us transform your property with our painting and lighting services.
Landscaping and Pool Refinishing: A well-designed and maintained landscape can significantly enhance your property's overall appeal. Our team includes skilled landscapers who can create beautiful outdoor spaces that suit your style and needs. From landscaping design and installation to irrigation systems and hardscaping, we have the expertise to bring your vision to life. We also offer pool refinishing services, including resurfacing, tile replacement, and equipment upgrades, to ensure your pool area is a stunning oasis. Drywall, Texture, and Framing: As a full-service construction company, Basin Roofing provides interior services such as drywall installation, texture application, and framing. Our experienced craftsmen can handle all aspects of interior construction, whether it's a new project, remodeling, or repairs. We pay attention to detail, ensuring seamless integration with the existing structure and creating a beautiful and functional interior space.
Quality Workmanship and Customer Satisfaction: At Basin Roofing, we pride ourselves on our commitment to quality workmanship and customer satisfaction. Our team of professionals is highly skilled, trained, and equipped to deliver exceptional results. We prioritize open communication, transparency, and integrity in all our projects, ensuring that your construction experience is smooth, efficient, and stress-free.
Contact Basin Roofing Today: If you're in need of fire and flood restoration, exterior upgrades, painting, lighting, landscaping, pool refinishing, drywall, texture, or framing services, Basin Roofing is your trusted partner. Contact us today to discuss your construction needs, schedule a consultation, and receive a personalized estimate. Trust Basin Roofing for all your construction requirements, and let us turn your vision into reality.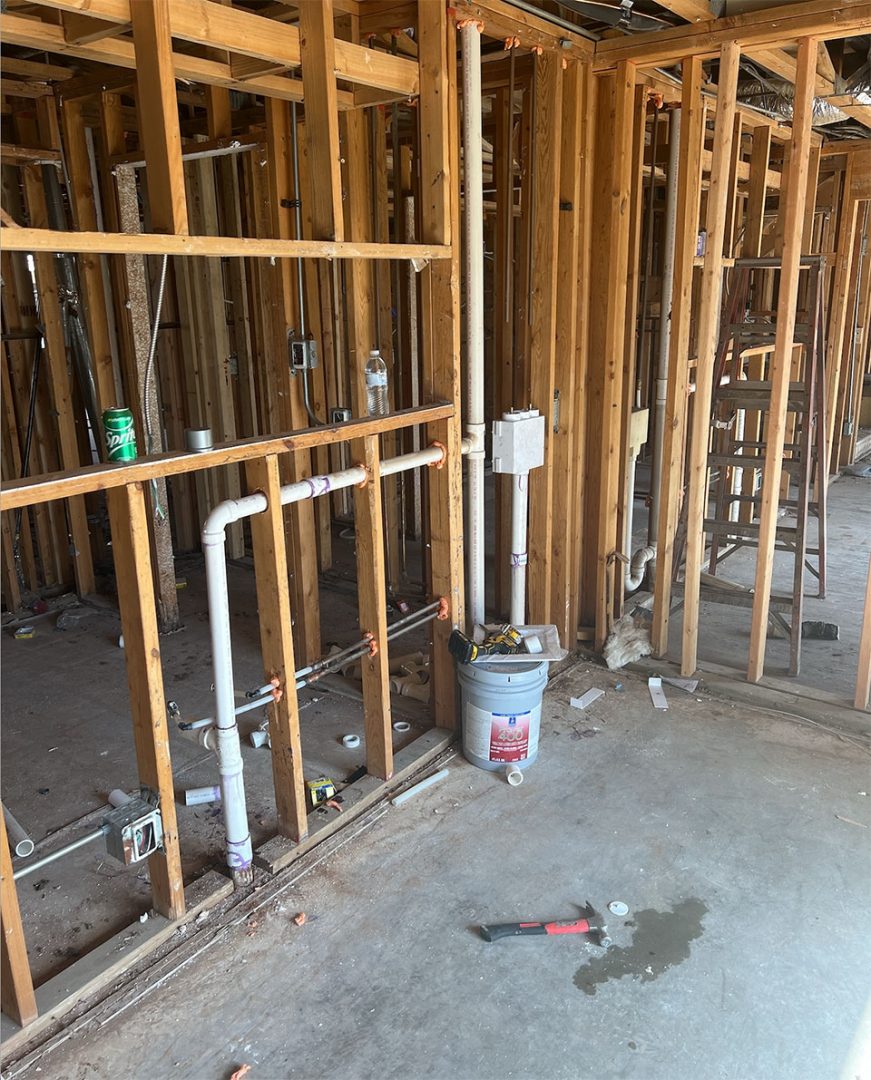 Contact our team for a free inspection
When was the last time that you had your roof checked out? With storm and hail damage a big concern in our area, it's always a good idea to have this completed once every year or so. Leave the job to Basin Roofing & Construction! We will carefully inspect your roof and your interior for any leaks or other compromising signs. Make sure your roof is safe and sound for everyone on your property by giving us a call.